Are you here to know how to start a WordPress blog?
Here in this blog post, I am going to share the best and easy way to start your own blog. This step-by-step guide will help you to understand how to begin, essential things for a blog, and I will share how to make money with the blog.
Starting a blog is the best way to share knowledge, ideas, and expertise online. You can put text, images, or videos on your blog website so that people looking for ideas can view your blog. Like here, you are reading this blog post to know how to start a WordPress blog.
The blog is not only for sharing knowledge, but you can also make money from the blog. Later we will discuss some tips on how to earn money. Furthermore, there are so many benefits to starting your own blog, I will share some benefits below.
Creating a blog was not so easy in previous years. But nowadays it's so easy. Even if you are a layman, you don't know how to write code you can make an amazing blog website.
I will guide you with images and videos so that you can make the best blog website today. I will recommend some trusted hosting, themes, and plugins so that you don't need to check another blog for added resources.
How to Start a Blog (Table of Contents)
Table of Contents
Why Blog?
There is much more reason to start a blog. Some start with passion and some with the purpose of making money. You can make your passion for the profession in blogging. Because the blog is one of the best methods to earn money. You can check the statistics of some blogger who makes thousands of dollars per month.
I already discussed in the previous post what is a blog, the importance of blogging, and the types of blogs you can create. Check the previous post if you want to know about these things or if you know all these things, you can go ahead.
What are the benefits of blogging?
According to Internet Live Stats, there're over 150 million blogs on the internet. It was initially introduced to share thoughts and ideas but later on, it becomes commercialized. There are so many benefits to blogging. Some of them are listed below.
Blogging is a better job – Bloggers nowadays earn a good income via blogging. It is a good source of income. Blogging is not only a passion, but it is also a profession as well.
Achieve your Passion – Lots of people start blogging as a passion. So, you can achieve it easily.
It can be your New Business – Blogging can be your new business. Blogging is the best way to start a new business.
Become a better writer and thinker – Once you start blogging, you can become a better writer and a great thinker as well. You will learn a new way of creating things.
Get Immediate Response – Visitors can comment on your articles via the comment section easily. So that you will get an immediate response to your published articles. You can go to the comments and can do it accordingly.
Build a Network – You can be a member of the blogger's network. You can learn a lot from that network.
Brand your company profile – Blog helps to grab more visitors on your company website. It increases company profiles and obviously increases sales and business.
Improve your SEO skills – SEO stands for Search Engine Optimization. You will learn about SEO tips and ways of SEO Copywriting to get lots of visitors to your site.
Collect Email For Marketing – With the help of the subscribing section of your blog site, you can collect lots of emails and you can use that email for the marketing of your site. You can sell products, affiliates products to earn more.
Increase your self-confidence – Blogging is the best way to increase your self-confidence with writing, thinking, and personal exposer.
Besides this, there are so many best things about blogging. Hence, blogging is a trusted and tested money-making method.
Is blogging completely free?
Yes, you can even create a blog for free if you want. There are a couple of things you need to pay for. A domain name and hosting are not free.
You can make a website for free with hosting from some platform but if you want to start a website seriously you will need to spend a few dollars to get a domain name and hosting.
I will discuss later recommended hosting and domain name.
What do you need to start a WordPress blog?
While creating a blog, you need to know some basic things which are listed below,
Better Idea about domain name – the domain name is your website name. Here, wpentire.com is the domain name.
Web hosting – this is the place where you will put your website and its content. It is simply memory storage.
Follow this blog post completely with attention. Prepare a cup of coffee and focus your attention on this blog.
Moreover, in this blog post on how to start a WordPress blog, I will cover the below-listed things,
How to register a domain and from where we can buy it
Choosing the best and recommended web hosting
Install WordPress
Change the theme and customize it
Add new post and page
Install and activate useful and important plugins
SEO optimization methods and tools
How to make money from your blog
Step 1. Choose your platform
WordPress is a leading Content Management System that powered more than 33% of the website and more than 60% in CMS.  More than 91% of blogs are powered by WordPress. Among all other CMS and technology, the leading platform is WordPress. So I strongly recommend you to use the WordPress platform for your WordPress blog.
I recommend WordPress because of the following good reasons,
It powered around 40% of the total website.
More than 60% occupied by WordPress among all other CMS.
Available more than 52000 free plugins.
Free and Premium Themes available.
WordPress is multilingual – Make your blog site in your own language.
You can get free support from the official support forum.
WordPress is accessibility-ready.
SEO friendly coding structure.
WordPress is GPL and completely free. You don't need to pay for using WordPress.
Responsive and device friendly.
Furthermore, there are so many good reasons for choosing WordPress.
Here we decided to go with WordPress. You can get free hosting services in WordPress as well.
What is hosting?
Hosting is the place where the content of the website is placed. It is a space or memory where your files, images, videos, and content are stored. The visitor will see the content of your website from this place. They enter the URL or domain name of your website in the address bar of the browser and the content of the hosting will load on the browser.
Differences between Free hosting Vs Self Hosted – Which is recommended?
I recommend self-hosting because,
You will have full control over your site, including layout, design, SEO optimization, advertisement, additional functions and many more.
You can use a custom theme for your blog site. Free hosting like WordPress.Com has its own theme.
You have complete access to edit codes, to add plugins, to back up your site etc.
Self-hosting is not so costly, you can start with a few dollars per month.
If you search for WordPress, you might be noticed that there are two options and one is WordPress.Com and another one is WordPress.Org. What are the differences between them?
Check a detailed guide about WordPress.com vs WordPress.org here.
WordPress.org
WordPress.com

Self-hosted – Need to pay for hosting and a domain name.
Your own content and you're free to do with it as you will.
You can install plugins, premium WordPress themes, and customize your site.

Free hosting, via a subdomain (your blog will appear as yourblogname.wordpress.com.)
Limited customization options and no access to plugins.
Must be bound with the Terms and Conditions of it.
Step 2. Choose a domain name and hosting
Before you proceed to another step, first you need to choose a perfect domain name for your blog site. A domain name is the name of your website. The domain name is important because,
It is your first impression on your visitor. So choose the domain name that defines your website. Here, wpentire.com is the domain name. WP stands for WordPress and Entire is everything. It simply says that this blog is the entire resource for WordPress.
The best and perfect name which affect the ranking in search engine.
It defines your brand.
First, think of a perfect name for your blog website.  Note it down, we need to search the available domain later. If the domain name is not available, you need to find alternatives.
There are lots of options out there for hosting, ranging from low to high rates.  Here I am going to recommend one perfect hosting platform, which is perfect for beginners, bloggers or any corporate and e-commerce website.
SiteGround is a reputed company and affordable for new bloggers. You can purchase the site ground plan with a 60% discount from the affiliate's link here.
What is the best part of SiteGround?
1-Click Installer
Daily Backups
7/24 Supports
Auto Updates
WP-CLI Enabled
SuperCacher
WordPress Staging
Git Pre-Installed
Live Chat Support
Fast and Secure
ii. Click on Choose Plan
SiteGround offers three different plans that perfectly suit beginners and intermediate bloggers. You can easily transfer the website from other hosting to this hosting as well. If you are new here on SiteGround, create an account from the signup section.
From the listed three plans, you can choose any of the plans. In the case of the beginner, you can go with the StartUp plan. Click on Get Started and fill in all the details below.
iii. Choose Your Domain Name
In this step, you need to choose the domain name. If you already have the domain name, you can select "I already have a domain" otherwise select "Register a new domain" and search on the pop-up box for the available domain there.
.com is a popular domain extension. So, I recommend you go with it. Select the option that applies to your situation and clicks to continue it.
iv. Enter and Confirm Your Details
Fill in all the necessary details in the boxes. You need to enter your name, address, and payment details to create your account. In the next steps, you need to choose a domain name and install WordPress on your hosting.
Step 3. Setting up WordPress
After setting up the domain name, you need to install WordPress on your recently purchased hosting. SiteGround offers a one-click WordPress installation. It's so easy to install WordPress on your server. After you choose your domain name you'll have the option to choose a one-click WordPress install.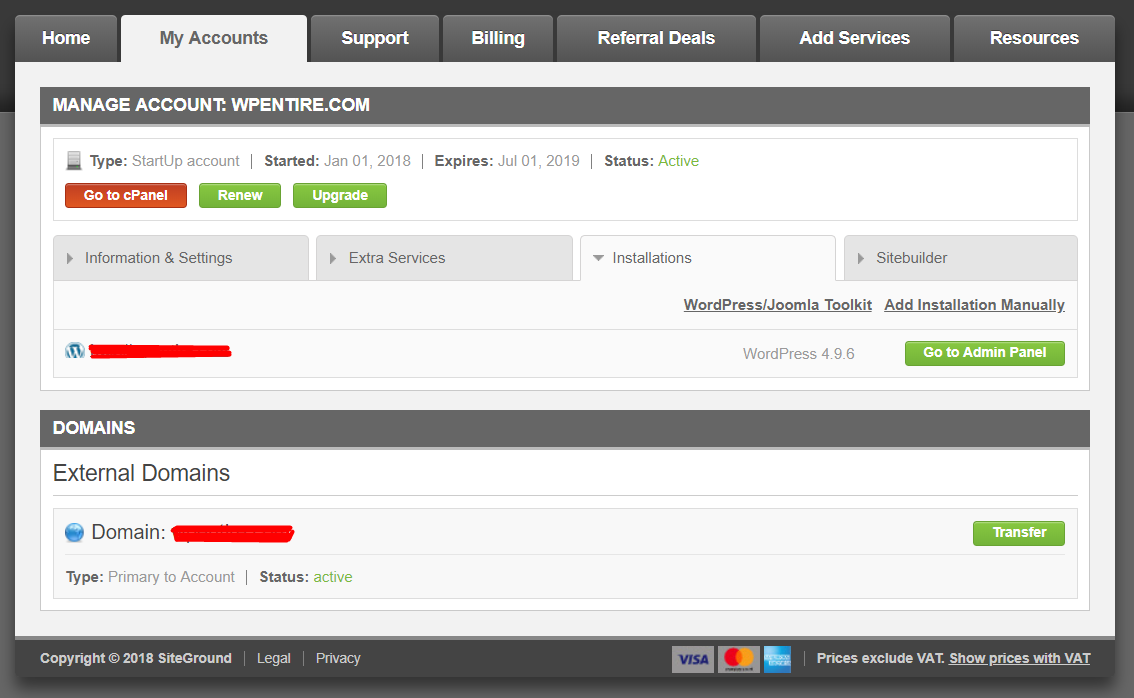 In setup, your Website section, select "Start a new website" select the WordPress icon below and click on Confirm.
After that, you will get a chance to create login details for your website. You will need your email address, username, and password. Provide a valid email, strong username, and password.
After doing that, confirm your WordPress install, click "Complete Setup" and you'll soon be redirected to the user panel where you'll be able to start working on your site.
Congratulations, your WordPress site is installed and ready. Now, you have some more things to do.
Step 4. Log into your new blog
After the successful installation of WordPress on your server, you should now have a blank WordPress site installation. You can see the layout of your website via your website URL. You can now log in to your WordPress dashboard from the wp-admin link. Example link is www.siteurl.com/wp-admin
After logging in, you will see various options to manage your WordPress website. In the admin panel, you will see post, page, media, appearance, etc. sections.
Step 5. Introducing your WordPress dashboard
Once you are inside your website dashboard, you will have lots of options to customize your site. Here I am going to elaborate on every setting available on the dashboard.
You should get familiar with the dashboard so that you can easily customize your website.
#What is the WordPress dashboard?
The page you will see after logging into your website is called the dashboard. It contains website settings to customize it.
#What are Posts in WordPress?
From the post section, you can write and publish a new post and edit old ones. Check here to know how to create a post in WordPress.
#What are Pages in WordPress?
Similar to the post, you can add a new page and edit the existing post as well.
#Media Section
This is your media section, where you can upload images, videos, pdf files, etc. All the uploaded media files will be there.
#Comments in WordPress
In this section of the admin panel, everything related to comments will be managed from here. Visitors on your blog will comment on your post, you can approve, delete or edit the comments from this section.
#What is the Appearance section in WordPress?
The word appearance means layout or look. You can change what your blog looks like. You can change theme, theme settings via the customizer, and options to edit theme codes directly.
#Plugins
The plugin will add functionality to your blog website. For example, you can add the plugin for Contact Form, SEO Plugin, Post Sharing plugins, etc.
You can easily add or remove the plugin from this section.
Note: Uninstall and delete the unused plugin from the dashboard and never install unwanted plugins.
#Users
Check here to know more about users and users' roles.
#Tools 
Here are some additional tools you can use for publishing posts. You can check them individually.
#Settings 
Here you can edit your blog's settings. The setting is an essential place to manage your website.
To learn more about the WordPress dashboard and settings, check the below video.
Change your website layout – choose the best theme
To change your website layout, you can easily do it by changing the theme. Here I am talking about the blog website and we are making the best and most professional blog webpage so I will recommend some best themes for a blog.
There are thousands of Free WordPress Themes available. For your new blog website, you can use the free version as well. Even the free version is amazing, lightweight, responsive, and with a perfect layout.
Best Parts of Free WordPress Themes
It is totally free, no need to pay for using it.
Secure, Fast and Minimal
Due to the Strict Review Process, it's really secure.
Easy to use due to limited theme options and settings.
You can change it later if you want the new layout because it is totally free.
In case you need more settings to customize your theme, I recommend you go with the premium version. Premium version of the theme you will have added theme options, dedicated support, and regular updates.
What are the things that we need to care about while choosing the best blog theme?
Check the below-listed things before finalizing the perfect theme for your website.
Choose a suitable design for your need
Choose light Weight & minimal Theme
The theme must be Responsive and mobile devices friendly
The theme must be major browser compatible
Font family must be an easily readable format
It must be compatible with Popular WP Plugins
SEO Friendliness Theme and SEO Optimized
Check reviews and ratings of theme
You can visit the respected theme page, demo page, and author page to know everything about the theme. Don't use a theme with untrusted mediums, unknown sources, and nulled items.
Here we are talking about blog websites. While choosing a theme for a blog website, you need to take care of a few more additional things. Some important things you need to consider while choosing the best blog theme are,
The font must be easily readable and properly aligned
Color must be light and content matching
Typography must be managed properly
Must have an option to comment for visitor engagement
Need options for social sharing
Widgets or options to display author information
Advertisement ready design
After finalizing the theme and if you don't know how to install the theme, check here to know how to install WordPress themes.
You may get puzzled while choosing a suitable theme for your blog site. So here are my few recommendations. Use any of the below-mentioned themes, you will never look for an alternative.
My Blog Theme Recommendation
Fairy – Free WordPress Blog Theme
Polite– Elegant and Minimal Blog Theme
Urbane – Simple and Lightweight WordPress Theme.
In addition, there are so many other best and free WordPress themes. Check additional theme reviews here.
Step 6. Adding Content – Posts and Pages
Now your website is ready with the new design. The next step is to add the content to your blog website. Creating a new blog post for the first time is really exciting.
Here, I am going to guide you with every step about how to make a new blog post.
First, go to your WordPress admin panel. From the admin panel go to Posts and click on Add New. A blank page with some sections will appear. In the title section, write the title of the post, and write the content in the content section.
From the featured section, add a featured image, select the category or add a new category and click Publish button to publish the post.
Creating a post is easy. Still confused! Check this post to know more about how to create a post in WordPress.
Similarly, you can add more posts to your blog website.
Step 7. Customize SEO friendly permalinks
Permalink is one of the important tools for SEO.
Your website permalinks must be structured properly. Check here to know how to customize your WordPress Permalinks and SEO Friendly URL Structure in WordPress. This is one of the best techniques for making SEO friendly blog webpage.
Step 8. Recommended Plugins for Blog Websites
Some plugins are mandatory if you are running a blog website. The recommended plugin for your blog website is listed below.
Google XML Sitemaps
Contact Form 7
Jetpack by WordPress.com
Wordfence Security
WP Super Cache
All the above-recommended plugins are useful for your blog website. Above listed plugins are trusted, used by millions of users and they are secure.
Conclusion
I hope you made your awesome blog website with the help of this post. This post has been written by expert WordPress users. Recommended plugins, themes, and hosting are the best of the best.
Do you have any further queries or confusion regarding this post? Please feel free to comment below in the comment section. I will guide you in every step.
Furthermore, contact me directly from the contact page if you need free service to install WordPress and theme on your blog site.
Recommended Reading
➡ Ultimate WordPress SEO Guide for Beginners 
➡ Install WordPress locally on XAMPP: Step-By-Step Tutorial For Beginners
➡ How to Add HTTPS and SSL to Your WordPress Website
➡ More WordPress Tutorials