Do you have your WordPress blog or want to create it? Do you also want to make money from it, isn't it?
If you already have your blog website, it's awesome but if not create it today because it is the best way to generate your ideas which will also give you money.
(If you don't have a blog, you can easily start a WordPress Blog. You can create various types of blogs, choose any of the suitable categories, and start blogging.)
Previously it was quite difficult to monetize your blog but today it is no more a headache. And the plus point is, it is free of cost.
While talking about bloggers, are two types: one who makes a blog for the individual purpose of making money and others who try to share their ideas and experiences with people.
No matter what type of blogger you are but still you need to make some money to maintain your blog site. As you have to pay for hosting and domain name, you have to monetize your WordPress blog.
If someone says you can earn more money online overnight, then I suggest you not be trapped by those people. You can easily make a huge amount of money online but generally, it takes time.
Once you get viewers and become an experience you can earn more and more with your single blog.
So today in this blog I am going to describe to you several ways to monetize your WordPress blog which is free of cost.
How much income do bloggers make per year?
Some bloggers make more than a six-figure income by monetizing their blogs.  Even if you are not a pro at managing the website but an expert at writing content, you can follow some popular blogs to generate ideas. Because even a layman can start a blog with the help of tutorials.
A website with a huge number of organic traffics generates more income. Including the various methods, writing quality content, managing One Page SEO, and making your website SEO friendly will help you to increase traffic.
And another important thing is, you need the best WordPress hosting if you are planning to make a self-hosted blog. However, there are some platforms that don't need hosting.
Monetization is an easy method to earn money from Blogging. But is still needs some works. What are they? Learn More ...
Click To Tweet
No one became mature or experienced overnight, they have to be focused on their work and struggle more and more.
As time passed, an amateur blogger can become a professional and can earn a huge amount of money every year. For this, you need to apply a solid marketing plan and a powerful monetization strategy.
So go through this article and apply the suggested method for monetizing your WordPress website.
Let's get started one by one:
Some popular and best methods to Monetize a WordPress Blog
Among the various methods, today in this blog I am going to write about some best and trusted methods to monetize a WordPress blog.
Become a Freelance Blogger
Being a freelancer is the best option for making money from your blog.
It is also easy to start your career. If you have ideas and experience about some topic and are able to present them in a powerful blog then you are ready to become a freelance writer. It will increase your ability and writing skills and another side you can make money, isn't it great?
Take your time and think once, if you are writing your ideas in some field why not get some advantages from that.
Several people are in search of people who can write an effective blog for their products who are ready to pay a suitable amount for it. So this is a great opportunity for a freelance writers to show their ability which will provide them with a good amount of money.
Some get less some get more, it depends upon the way of writing. So if you get less at starting do not get broke down.
Keep doing your work, with your experience your blog give you an impressive amount of money. At starting you have to charge less to get into this field. But remember never charge too less, it might give a poor rating for your job.
Most freelance writer charges $10 at starting. You can also go through this charge to start your writing career. As you started to get more clients and projects you can increase your rate.
Another advantage of a freelance writer is, you don't need huge traffic for your blog.
The thing matter is your writing skills. How you are able to present your ideas? How much your blog is powerful? This is all which matters for making money.
While choosing your business fields you must think twice. Only choose the one who is able to pay for your blog or who gives a desirable amount of money. Then only you can keep the continuity of your work. So always select the right market to present your ideas and blogs.
For selecting the right market, first, make a visit to the same niche and find its writer. If more than 10 writers are writing about that topic or product, it means it is perfect to start with.
WPEnitre also works as a freelance writer. Our team writes content for other websites and we earn an impressive amount of money monthly.
Do you want to know how to start? If you are afraid and looking for a team to join? Drop your comments below or contact us. Let's start and make money online together.
Pay Per Click (PPC) Advertisement – Google Adsense
This is the popular statement that, Pay Per Click also known as Cost Per Click. It means earning money with every single click. Pay Per Click advertisement is another best and easiest way to monetize your WordPress blog.
One of the best examples of this strategy is Google. However, some applications get rejected because of the strict guidelines and policies of Google. You can find some alternative PPC advertisements.
They are also good and the recommended method to earn money. If your blog has good and quality content, you don't need to worry about the approval for Google Adsense. They will surely accept your application.
How does it work?
Every day millions of people make a search on google and they get a result. It is totally free. People are getting their results without paying any money.
Have you ever thought despite being free, how Google is earning money? So today I want to clear you that it happens all because of PPC advertising. With every click, Google is getting money in return.
There are several PPC companies that used to post your blog to a different platform. Whenever it gets clicked on, the blogger will be paid for it.
Among all those companies, Google AdSense is one of the best platforms, you just have to apply for your blog. To make the approval of your blog, make sure it has original content.
As soon as your blog is approved, you will get an add code for it which will be your blog id. So I think using a PPC advertisement is quite easy and impressive. You can easily get a passive income.
But in case you get no clicks for your blog you will get any money even you have many attractive pages. So in PPC advertisement clicking for your blog is the most important factor.
How to get started with Google Adsense?
You need to apply for Google Adsense by filling in some information. If you are new to this thing, I recommend you to follow the official blog about guidelines here. Besides that, you can search on google for some added information as well.
First, you need to signup for the Adsense account.
Fill in the required information there.
Once your application for Adsense is approved, you need to place the AdSense codes on your WordPress website. You can place those AdSense codes in the sidebar, in between the contents, etc.
If you are using WordPress for the blogging platform, I recommend you to use Google Adsense WordPress themes because they are developed by taking care of Adsense.
However, people are smart and they use Ads Blocker to hide the ads while visiting your blog. Because of that, you will not able to earn as much as you expect. Hence, for that case, you need to detect the Ads blocker sites and notify them to disable them. As a result, your income via PPC will increase.
Some of the free WordPress themes lack the features for adding Adsense code. So, it is highly recommended you use the premium WordPress themes where you will get tons of flexibility for Adsense.
Some Recommended Free WordPress Themes
In this post, I am talking about blogging. Hence,  I am going to recommend to you some best free WordPress blog themes and some free WordPress magazine themes. Besides the free version, you can go with the premium version to get more added features. Check the Pros and Cons of free and premium themes here.
Intimate
If you want to make a website where you can add AdSense and monetize the blog, then choose Intimate. It is a complete AdSense-ready WordPress theme. You can easily add AdSense to your site.
It has a number of widget areas where you can add the advertisement. You can either add the image or Google AdSense. Besides that, you can also add other ads platforms. Download this theme and make your ads optimized site.
Refined Magazine
Refined Magazine is a totally free WordPress theme and compatible theme for Google Adsense. By using this theme, you can easily monetize a WordPress blog for free.
This theme is developed by a trusted team. Besides that, you will get ample features that are necessary for blog or magazine sites. Not only for the PPC monetization method, but it is also helpful for placing the advertisement image, GIFs, videos, and more. It is completely an advertisement-ready theme.
Polite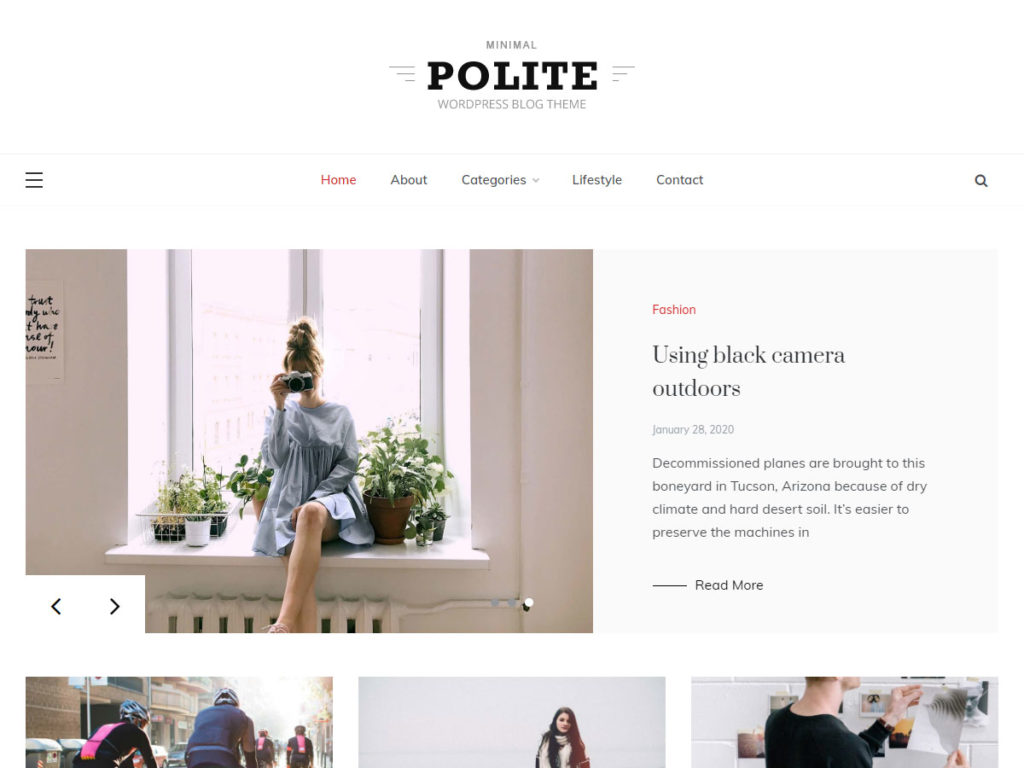 If you are looking for a simple and minimal Adsense-ready WordPress theme for your blog, Polite will be the best option for you.
Website speed matters a lot. Hence, this theme Polite can play a vital role in the website speed because this is one of the fastest WordPress themes.
It has AdSense compatible design, a simple and elegant layout, a powerful customizer, and managed typography. No doubt, you will never look for an alternative after using this theme.
---
Pros of PPC
It is easy to use on your website.
Free signup
Relevant ads will be shown on the user's side automatically.
Awesome dashboard to track the income
Easy to checkout money in Banks.
Cons of PPC
Visitors need to click on ads to earn money.
Impression only will give less income.
The chances of using Ads blockers by visitors are huge.
AdSense For Search Ads
In addition to the above listed two methods, this is another best and recommended method to monetize a WordPress blog. This is also similar to Google Adsense and it is also from Google.
If your visitor has tons of visitors and uses your search section to find the contents within your website, you can replace your website search with search Ads.
Adsense for search helps you to boost your earnings. Besides that, it helps your reader to read the contents from various other websites in your blog. Moreover, it helps to reduce the bounce rate of your website too.
While configuring Adsense for search, you will have to option,
Load search findings within your blog page
Load the results on the Google page
In order to reduce the bounce rate, you need to retain your visitor to your site. Thus, I recommend you go with the first option to show the search result within the blog.
After knowing that you can earn money with Adsense for search, I am sure that you want to add it to your website.
How to create Adsense Search Ads?
How? I want to migrate it now. Please follow these basic steps and increase your income from today.
First, go here.
Log in with your Google account. If not, signup for google. It just takes a couple of minutes.
You will see a similar layout there. Where you need to fill in the required information.
Enter the URL of your site. You can also make a search for individual pages, entire sites, parts of the site, or the entire domain.
Selected the preferred language. The default language will be English.
Next, give the name of the search engine.
At last, click on create.
In the next step, you will get the option for the code. Click on the Get code button. The section will look like this as shown in the below screenshot.
In the next step, you will get the code. You need to copy that code and paste it into the <div> element in your site's <body> section, where you want both the search box and the search results to render.
Finally, now from the Edit search engine tab, go to the make the money tab and turn on the Search Engine Monetization button. Make sure your search ads monetization is linked with Google Adsense.
Now, it's over. Isn't that easy?
You need to use the same google account for both Adsense and Search Ads monetization.
Pros of Custom Search Ads
It has a high click rate. So that you will earn more.
Easy to setup
Cons of Custom Search Ads
Your visitor will go to another site if the search shows the result of another site.
Your site content will get less important because of the other search results.
Good luck with this method!
Selling E-books to your audience
Another popular method for bloggers to monetize their blogs is making e-books. I think it is the best option as it has an adequate price which can be paid by the audience.
A single e-book contains different topics with different ideas. Bloggers can also know whether their audience is interested or not in their blog with the selling number of books.
It is of low risk as e-books are cost-effective and everyone can afford them. To earn more money, you don't need to have more traffic on your blog.
The best examples of it are David Oudiette. He covered his ideas within a book with around 252 pages which costs $39. But with very little traffic, he was able to earn $13,000.
So what makes him get that much revenue? Let's see what his strategy was:
Knew about the landing page of his subscriber and provide them with free tips and finally suggest them a book.
Gives random feedback and answers all the queries of his audience
Added his books on product hunt
So with the same planning, you can also make money with your e-books even with a few audiences.
Now you might be thinking about where to sell your e-books, isn't it? You can post it through different platforms like Gumroad or Podia. It will be better if you have your own site, it will give your total profit of the sales.
Suppose you have blogged about coding language, you can make e-books related to different coding languages. It will attract your audience and you can make more money.
Affiliate Marketing
Another interesting method for monetizing your blog is affiliate marketing. The name may get you in confusion or you might take it as a difficult concept. But not to worry anymore because it is a pretty easy concept to apply for your blog.
Learn here to know more about affiliates marketing.
Let be first introduced the method. Affiliate Marketing refers to the process in which you post the product of some affiliated company product like Amazon, Theme Forest, Trip Advisor, and many others on your website.
If someone is buying their product with your site's blog, in return you will get a commission. I am sure once you apply this strategy, soon you start to make money with your blog.
It is recommended to signup and start with the highest paying affiliates programs to earn more.
In this method, first, you select any product you like or you might choose the trending products. After that put those product affiliate links on your blog. If someone is buying that product with your blog helps you automatically get a commission for that.
For affiliate marketing, you do not need any extra website, you can through with your regular website.
Besides these affiliate companies, there is still some independent company that is in search of affiliate marketers. But case if buyers are not buying products through your blog, you will get no money.
According to Forbes Huffington Post, the highest earning is $41.6 million per month and sees here the top 10 highest earnings.
Impressed! Go now and apply for affiliates. Based on the policy, it will take some hours to some days for the review of your affiliate application. Some website has automatic approval as well.
See highest affiliates earnings according to Forbes
Some of the tips for affiliate marketing are:
 Read carefully all the terms of the affiliate programs.
 Always determine that you are using affiliate links on your blog.
 Apply these affiliate links only at the appropriate place.
Use relevant affiliates based on your content. For example, WPEntire only uses WordPress-related affiliates programs.
Disclose the terms and conditions of your affiliates on your website and reduce the chances of getting blocked.
Pros of Affiliates Marketing
Highest paying rate. You will get up to 60%.
Easy to apply and it is free to signup.
Easy affiliates' approval.
Cons of Affiliates Marketing
Visitors need to purchase the products to get a commission. You will not get any commission by just clicking and sending traffic on their website.
If your website has fewer visitors, you will not earn more.
Some website has more than a $100 threshold for paying.
Create and Sell Online Courses or make your own products
Last but not least, creating your online course and selling it is another best option to make money with your content and blog.
Most of the bloggers thought that they are not qualified for making creating online courses. But all you need is to be able to present your ideas in a way so that people can understand them.
You need not be certified with a higher degree, just you have to keep in mind that your courses are useful and helpful for others.
Nowadays many people are referring to online courses so it is very beneficial for you. It is assumed that by 2025 more than $325 billion will grow with e-learning.
Before starting any blog first understand your audience and visitors' problems and their required topic and their start an online course that will solve their issues. If you are getting trouble finding your audience problem, you can make a survey of that.
It will give you a quick result so you can start with your online course. You can also find out the problems with your blog comment by your visitors.
In addition, you can start making videos for free and put them on Youtube. You can also generate traffic on your website.
In that video, you can cover free tips for IELTS courses, travel documentaries, health tips, product reviews, and many more. But make sure the website has similar information. From that method, you can get more traffics and your website will earn from the above-listed methods.
Final Thoughts
Finally, we did with overall methods for monetizing your WordPress blog. Apply the above strategy, I am sure you will get a better result. Without paying any cost or going anywhere you can make money with your blog. But you must make sure that your content is related to the topic and yes it must be original.
I think blogging is the best option to start your niche. With less or no expense you are able to earn more. Another advantage of the blog is, it will furnish your writing skills and give you the opportunity to share your ideas with others.
I hope you will love this article and get it effective to get started with your blog. If you have queries, leave your comment in our comment box, we will return an answer as soon as possible. For more interesting articles keep visiting our site.
You may like our article on Best Keyword Research Tools for Bloggers.
Also follow us on Facebook and Twitter for more WordPress tutorials, reviews, and guides.
Happy Blogging and High Earning!