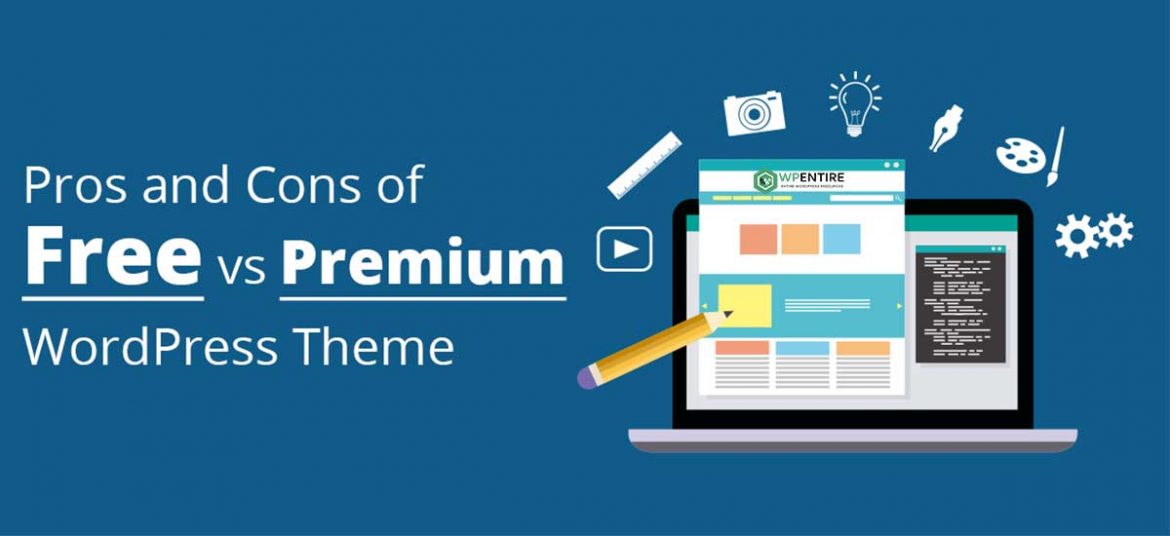 Powering over 33% of all websites on the World Wide Web, WordPress is extremely flexible and can help you create almost any sort of website pertaining to any particular niche. This is possible thanks to WordPress themes, which can change the site design by incorporating stunning aesthetic visuals.
But with that being said, users who are new to WordPress face a fundamental confusion – Free vs Premium WordPress Theme, which to choose?
Now, it is needless to point out that premium themes feature more advanced functionalities and customization control in contrast to their free counterparts. So the real question is – do I need the extra "advanced" features delivered by a premium theme, or can I make do with a free one?
And the answer is a big, ambiguous – "it depends." Everyone has different requirements so some might find premium themes a necessity while others can be more resourceful with free options.
And so, for the purpose of this read, we will be going over the Pros and Cons of Free vs Premium WordPress Theme. This will help you understand the advantages as well as the disadvantages of both sides, and allow you to make a more informed decision.
A] Free WordPress Themes
By free WordPress themes, we are referring to the collection of themes available from the WordPress.org directory.
Do note, that even in the case of WordPress, some shady websites tend to pirate premium themes and provide them for "free," occasionally paired with malicious codes. Also, known as 'Nulled WordPress themes,' we don't endorse their use and suggest you avoid them at all costs.
With that cleared out, let's take a look at the advantages and disadvantages of using free WordPress themes.
Advantages
1. It's Free To Use
Right off the bat, you got a massive advantage of a $0 price tag. It can be extremely helpful if you are starting a WordPress blog or website on a budget. Furthermore, since it's free, you can try out multiple themes in your particular niche, till you find a satisfactory design layout to implement on your site.
2. Better Quality In Most Cases
Most people might think that free themes have low standard codes. But in practice, it is the exact opposite! The WordPress.org Theme directory implements a strict review process that examines and scrutinizes a theme before enlisting it. Hence all the free themes adhere to this strict guideline to ensure better quality.
Disadvantages
1. Lacks Features
Creating a WordPress theme is hard work in and of itself, let alone populating it with a boatload of features and functionalities. Even though some developers don't mind creating free themes in exchange for earning a name or honing their skills, no one is willing to toil through unpaid labor in order to create a premium-grade product.
2. Limited Support
Free themes don't offer any direct incentive to their developers, so they are not too keen on supporting them and their users. Most free themes have a dedicated support forum where developers do try to resolve issues – but that's the maximum you can expect.
Many times, developers tend to abandon development on a theme which makes it outdated, and unsafe to use, as new WordPress updates roll out.
3. Not too Many Variations
Free themes tend to sacrifice flexibility as well as on the customization front. You will be pretty much stuck with the theme design and layout you get out of the box. If you are happy with what the theme has to offer, then that's great – however, if you are looking to make little tweaks in the footer area, then bad luck!
B] Premium WordPress Themes
Unlike the case with free WordPress Themes, the WordPress.org Theme Directory doesn't hold or sell any premium themes. For that, you need to go to third-party WordPress Theme marketplaces like ThemeForest, Mythemeshop, Themify, TemplateMonster, and so on. However, going with third-party vendors does introduce its fair share of pros and cons into the list.
Advantages
1. Powerful Features
The main reason to go with premium themes is to access premium/powerful features to enhance the functionality of your site and deliver a better user experience.
2. Better Support and Updates
Premium WordPress themes generally come with free premium support and also maintain a steady update schedule. Therefore, if you run into some issues while using the theme, a team of experts will be available to address your problem.
Furthermore, the theme is also bound to get updated regularly with bug fixes, security patches, and occasional feature updates to ensure your theme is running at optimal efficiency.
3. High on Customizability
Premium themes are rich in customizability to help you tweak the site design and aesthetics in any way you like.
Most of the time you will get access to plenty of demo templates, paired with a drag and drop enabled page builder to help create any layout and web structure without any coding whatsoever. Plenty of branding opportunities is also implemented which can be useful for businesses.
Disadvantages
1. Unregulated Code Standards
Since premium WordPress themes don't need to go through the WordPress.org Theme directory, they don't face any such harsh scrutinization of their core code. This sometimes results in users buying themes for their premium looks without accessing its standard of code and quality.
To avoid such issues, it is always important to purchase themes from reputable marketplaces, and that too after thoroughly reading the review section.
2. Bloated
In order to stand out from the competition and attract more customers, premium themes just keep on including more and more functionalities into their prospectus. Sometimes, these extra features come in the form of other third-party plugins.
Now, more features equate to more lines of code meaning heavier themes. This can make your site load slowly and impact overall performance.
In Conclusion
So as you can see, both free, as well as premium WordPress themes, come with their own sets of advantages and disadvantages. As a rule of thumb, if you like the design and aesthetics of a free theme, then go for it without a second thought.
On the flip side, if you want access to more advanced features and customization options, there is no other way but going premium. However, do some research to make sure the theme doesn't slow down your website or impacts performance.