The internet has redefined the way we do business. The majority of shopping is now done online. This has given rise to the adoption of multi-vendor online marketplaces.
It is one of the revolutionary tools in the eCommerce industry, with companies like Amazon, eBay, and Etsy, leading the eCommerce market. It is estimated by the year 2022, over 2.5 billion people will be transacting online. 
The number is huge compared to some years ago when only a fraction of transactions happen online. With more people transacting online, they need places to sell their products.
With the introduction of online marketplaces, small businesses with little or no marketing budget can now create an online catalog without building a website of their own. Online marketplaces can run millions of products without owning the products. 
This has been made possible with the use of the multivendor online marketplace. Different vendors can list products on the same website with each vendor having control over their online catalog.
What is a Multi-Vendor Online Marketplace?
A multivendor market marketplace is an eCommerce website where multiple vendors or sellers can display, manage, and list their products or services on the eCommerce platform.
It is a form of eCommerce site where different merchants can sell their products or services on a single eCommerce installation. Each of the vendors has the administrative power to manage their catalog.
A multivendor marketplace is managed by the website owner/Admin who serves as the super admin and is responsible for managing the overall activities of the website.
The online multivendor marketplace is designed for creating multiple online stores where each merchant has control over their catalog. It also gives the merchant control over their catalog. One of the most popular multivendor plugins is Dokan, which is based on WordPress.
Introducing Dokan
Dokan is an automated, self-managed, and easy-to-use WordPress multi-vendor marketplace solution. It is one of the most popular WordPress multivendor plugins. It allows you to run multivendor eCommerce solutions on your WordPress website. With Dokan, you can create, customize, and run multiple stores within a single WordPress installation.
Developed by WeDevs, Dokan is one of the best multi-vendor plugins available in the market. It is also the most used multivendor plugin across any platform, having 70,000+ marketplace using this plugin actively. weDevs is a WordPress plugin development company that also built some other top plugins like WP ERP,  WP User Frontend, WP Project Manager, etc for WordPress.
With Dokan, anyone who likes to be a vendor for the marketplace can register an account as a vendor while users can also register as a customer. Overall, Dokan certainly offers more functionality than any other multi-vendor eCommerce plugin, justifying the huge number of marketplaces built with it.
Pros of Dokan Multivendor Marketplace Plugin 
You don't need technical or coding expertise to build a marketplace using Dokan.
Dokan is highly customizable.
It is easy to use.
It provides sales and useful insights.
Dokan is available in over seventeen different languages.
It works with over 100 plus payment gateways.
It has a fully customizable storefront for merchants.
Last but not least, it is less costly than building a custom multi-vendor marketplace with coding.
Features of Dokan
Dokan has a lot to offer its users. If you are planning to build a multivendor marketplace, the features of Dokan can help you build a multivendor website effortlessly.
a) It is easy to Configure: Dokan is easy to use and super intuitive with the full functionality of an online store and a multivendor marketplace. Thanks to the fact that it runs on WordPress, it offers a click drops functionality which means you can build an entire marketplace without writing a single line of code.
b) Independent Stores: It provides each vendor with an independent and customizable storefront. Though the store is under a universal website, each merchant has control over their store. With Dokan, each vendor can set up specific functionalities that apply to their stores. This also helps in the increase in sales.
c) Theme Compatibility: One of the many advantages of Dokan is its compatibility with a lot of themes. Any theme that is supported by WooCommerce, is also supported by Dokan. Also, Dokan comes with an inbuilt theme that gives you the privilege of setting up your marketplace without buying another theme. However, if you wish to use another theme, you can install a Dokan compatible theme.
d) Comprehensive Reporting System: Dokan offers a comprehensive reporting system that gives you insights and allows you to monitor activities on your multivendor online marketplace. You can monitor activities such as the number of vendor and customer registrations, website visits, number of purchases, items sold, payouts, etc.
f) Frontend Dashboard: Dokan provides a rich and customizable front-end dashboard for merchants and customers. Vendors can manage their inventory, sales, coupon, orders, etc from their personalized page.
g) Get A Commission on All Sale: It lets you earn a commission on all purchases made on the site. The super admin can set a commission on all the purchases made on the site. 
h) Coupon Management System: Dokan has a coupon management system that allows the site owner and vendors to create coupons on the site.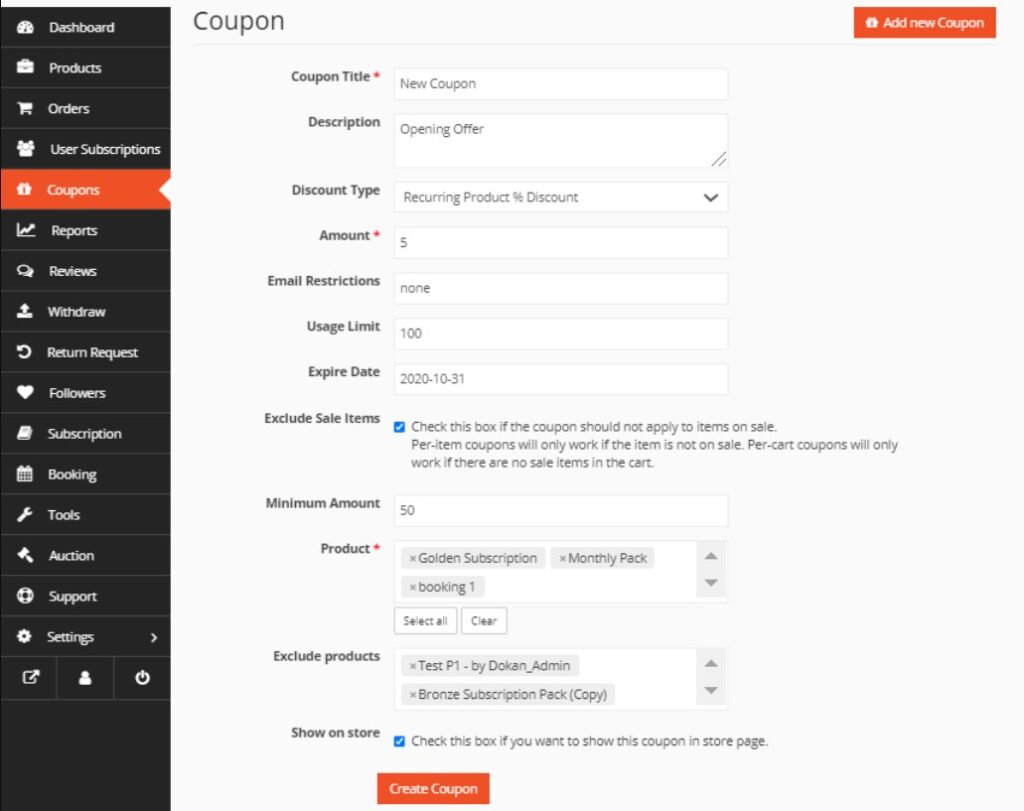 i) Withdraw Option for Vendor: Dokan comes with a super easy payout method, through which the site's admin can pay the vendors. You can set the minimum withdrawal limits, the payment options, etc.
j) Shipping: Dokan has a comprehensive shipping management system and provides flexibility for each vendor to handle and set their shipping option. 
k) Fully Customizable: With Dokan, both the vendor and the website administrator can configure the site to their taste. You can set options such as payment types, shipping information, delivery, etc.
l) Moderate Content: The system also allows you to manage the content on your site. To be sure that all products meet the required standards. All the products go through moderation before they are released to go live on the website.   
m) Supports Multiple Product Types: Dokan supports different types of products such as digital, physical, and virtual products and services.
n) A custom dashboard for vendors: Each vendor has a dashboard where they can monitor activities in their store. 
o) Custom order management: With Dokan, you can easily manage your online catalog and create custom orders. It also provides a flexible order management system where vendors can manage orders in their stores.
Setting Up A Dokan Marketplace
Setting up Dokan is pretty simple. It does not require any technicalities or coding. Dokan is easy to use because it offers a plug-and-play setting whereby you do not need to write a single line of code. Dokan is a WordPress plugin which means it can only work on WordPress installations. Therefore, the first step is to install WordPress on your site.
Install WordPress:
WordPress is one of the most popular website-building applications. Over 39 percent of Websites around the world run on WordPress.
To build a WordPress site, you first need to install WordPress on your server. There are several ways to install WordPress, you can either install it through softaculous, right from your CPanel.
Most hosting companies offer a one-click install. You can also manually install WordPress on your local server by downloading WordPress from the WordPress website, unzipping it, and installing directly on your local server. 
Download WordPress.
Unzip the installation.
Upload on your File Manager in cPanel via FTP.
Follow the installation procedure.
Setup / Configure WooCommerce:
Once you have installed WordPress on your WordPress site, the next step is to install WooCommerce. WooCommerce is the premier plugin to add eCommerce functionality to the WordPress site.
Dokan works hand in hand with WooCommerce by extending the functionality of WooCommerce from a simple Online store to an online marketplace. WooCommerce is a free WordPress plugin that turns your website into an eCommerce engine. Here is how to install Woocommerce:
Login to your WordPress Dashboard,
Install the WooCommerce plugin by visiting the Plugin Menu, Plugins > Add New.
In the search box, Search WooCommerce, Install and Activate the plugin.
Once you install the plugin, set up, and customize the plugin to your taste.
Once you set up WooCommerce, you can then set up Dokan.
Once WooCommerce is installed, you can go ahead and install the Dokan plugin.
Install Dokan:
Dokan is a multi-vendor WordPress Plugin with a free and premium version. Here is how to install Dokan. On your WordPress dashboard, navigate to the Plugin menu. 
From your admin dashboard, click on Plugins. 
Click on Add New.
Search the keyword "Dokan"
Once you find the plugin, Install and Activate it.
Follow the on-screen instruction from the configuration wizard to configure Dokan. The configuration wizard is divided into five different sections, namely Store, Selling, Withdraw, Recommended and Ready.
Store
Under the store, you can set up the shipping fee, tax, and vendor URL.
Selling
The Selling option allows you to set up the commission. It also gives the option to allow a new vendor to start selling immediately. You can also set up the commission type, the ability of the vendor to change order status, and the percentage commission for the Super admin.
Withdraw Setup
This option allows you to set up the withdrawal methods for your vendors. You can also set up the minimum withdrawal limit and the order status for withdrawing.
Recommended
The Recommended part is not compulsory. However, it shows you a list of all the recommended plugins and features you can integrate with your Dokan installation, which can effectively improve its performance.
Ready
Once you have properly set up your plugin, you are good to go and ready to start accepting vendor registrations on your site.
Multi-vendor marketplaces are becoming popular by the day. Apart from the convenience, it is easy to set up for SMEs who can easily plug into one without building a custom website. Dokan has been installed by over 50,000 customers worldwide. This makes it a good choice for building your online marketplace.
Wrapping Up
Dokan is a beautiful piece of plugin that is loved by many users around the globe. With so many useful features and customizability, there's simply no reason to not consider Dokan for building your multivendor marketplace.
Install Dokan today and unlock the world of possibilities of a multivendor marketplace.
You can also check our guide on how to make an online learning website in WordPress.
Follow us on Facebook and Twitter for more WordPress tutorials and reviews.