While talking about WordPress websites On-Page SEO is an important factor to increase traffic to the website. SEO stands for Search Engine Optimization and it helps to make our website/blog search engine friendly (Google, Bing, Yahoo, etc.). SEO is also the reason why when we write authentic and proper content: the search engine does not show them.
On-Page SEO Technique is one way to make our website friendlier to the search engine. Today here we are going to talk about some basic steps of on-page SEO for WordPress websites.
The below-listed methods are only applied to the WordPress website. Firstly, make sure your website is built on WordPress. You can easily start a WordPress blog because it is easy and free as well.
Moreover, we recommend WordPress because of its flexibility and features. It is SEO friendly, totally GPL, and made for any type of website like blog, magazine, e-commerce, corporate, business, etc.
Why On-Page SEO only? What about Off-Page SEO? If you have these questions in mind, don't worry we will write about the off-page SEO technique for the WordPress website soon. As a beginner, we recommend you learn on-page SEO techniques first. It is simple and easy to learn and implement.
Most of the methods of On-Page SEO need to be implemented while writing the post. Hence, make sure the content you are writing will be SEO-friendly. We are going to share with you below how to write those content as well. Stay here!
Best SEO tools to use for WordPress Website
Among the various tools, we would like to recommend the Yoast SEO plugin for your WordPress website. Because this is powerful, trusted, and used by millions of satisfied users. Furthermore, this is easy to use. In addition, it has simple user interfaces, a readable format of notices and suggestions, and a lot more.
Let's elaborate Yoast plugin more,
Yoast SEO plugin is free and also offers other services than SEO. It also can,
Create an XML sitemap
Verify Google Webmaster Tools
Create breadcrumb navigation and a lot more.
Besides this, it helps for RSS optimization, Editing your robots.txt and .htaccess file, and will perform various useful tips as well. In gist, Yoast SEO is a complete package for WordPress SEO.
On-Page SEO Techniques For WordPress Websites
Among various methods here we are going to list some important things to maintain your website SEO. I hope, this will really help you a lot.
Load time of your Website
As research said, a website that has more than 2 seconds of load time will lose about 50% of traffic. Hence, it seems mandatory that we need our website faster to get more traffic. If your website loads slowly, you will lose a huge number of traffic.
We all do not like to wait and the websites that do not make us wait are what we like. Less load time means, we have enough time to read the contents and effects. When our site loads slowly, we are losing the interest of our viewers.
We can check the speed of our website/blog Pingdom. Also, we can use Google's PageSpeed Insights to find the problems and the solutions to our website. You can check it on GTmetrix as well. This is the best tool to check your website speed. Moreover, they will provide you with the solutions to that respected problem too.
Tips to make WordPress website faster,
Update themes and plugins regularly
Delete unused plugins and themes for the website
Cache your website using plugins like W3 Total Cache.
Used optimized images
Content Delivery Network (CDN) can be implemented. CloudFlare and MaxCDN are trusted CDN.
If you have any ideas about making the website faster, please comment below. The visitor will learn from your experiences and expertise.
Optimized Slug
Optimized slug is an important factor for SEO. It is recommended that the short URL or slug is very important. Hence, for the WordPress website, we recommend using the Post Name URL structure. You can manage the slug of the post from Settings > Permalinks.
Check here to know more details about how to make SEO friendly URL structure in WordPress. This is really beneficial for you.
You can optimize the single post or page slug individually as well.
Confused? Drop your confusion below in the comment section, we will guide you with the best alternative methods as well.
Optimized Image
Always use optimized images. It reduces the load time of your website. If your website loads faster, you will get more traffic. Instead of using heavy images and videos, always use the actual size or optimized one. You can use the Tiny PNG website to reduce the image size.
In addition, while adding an image, always use proper ALT tags, image names, and titles.
The ALT attribute needs to describe the actual things about the image. Not a random ALT tag is recommended.
The Quality Content
Content is King and it is the major thing of your website. In the case of the blog website, the visitor always looks for the best content. Hence, content is the best part of SEO.
The contents should be on the topic, detailed, and also grammar is important. Your content should have relevant images inside it. Also, videos are also important.
Furthermore, the keywords should be in the body text and the primary keyword should be in the H1 tag (only once). The repetition of keywords is also considered when there is a demand for context. You can use synonyms for the keywords as well.
Overuse of keywords or forceful use of them will hinder the user experience and will hamper the website/blog in the long run. Hence, we should also take that into context as we do not want to increase the bounce rate of our content.
Proper formatting of our content with tags, tables, lists, images where needed can improve user engagement. Long articles with a table of contents can make it easy to navigate.
If you have long paragraphs, divide them with some headings. It is great to include the focus keywords on the headings. You can use an order list and list indexes to make the content readable.
You can use Grammarly to check the grammatical mistakes. For readability, Yoast SEO will give us real-time suggestions in its readability section.
Proper use of Internal and External Links
If we are to have authority over our contents, links (internal, inbound, and external) are necessary on it.
There are 3 types of links. They are:
Internal Link: It connects different pages/posts on the same website/blog. Here, we direct the users to some other pages/posts from the existing ones for the same/different use.
Inbound Link: It connects us to a different website. Here, the other websites link to our websites as Backlink. Creating backlinks is an off-page SEO trick.
External Link: Here, we direct the user of our website to another website/blog as an Outbound link.
DO's and DON'Ts of Internal Linking
Internal Linking helps users find what they are looking for inside the website/blog. It will help the user spend more time on your website/blog. For that, we need authentic content and proper direction within the website/blog.
As internal linking is directive, it helps search engine bots to navigate on our website/blog. Internal linking comes in handy when we have a lot of content on our website/blog and also index than on search engines.
Internal linking helps users spend time on your website/blog as it navigates users to their queries which increases user time on the website/blog and bots or spiders will also have clear paths for search engine purposes. This will increase the value and ranking of the website.
Things to remember while using this great SEO asset:
| | | |
| --- | --- | --- |
|   | DO's of Internal Linking | DON'Ts of Internal Linking |
| 1 | Link only to pages with content | Do not link to empty pages |
| 2 | Link to deeper pages on your website | Do not link to top pages like the home page |
| 3 | Use when appropriate | Do not use hidden links |
Tip: There is no definite number of links. You can use as many links as you can make but they should be relevant. They should be directive and should provide the user with value and keep them engaged.
DO's and DON'Ts of External Linking
Linking to an external site does not de-value your website/blog. It shows your humbleness and generosity. It helps user experience and people will respect you for that. But we have to make sure that the link is genuine and of use to gain the user's trust.
So, how does an external link help you get visitors to your website?
When you direct your users/traffic to another external website, the owner of the website will notice that. They might be curious about many things and might also check your website/blog. If they like what you are doing and your contents are genuine, they might thank you back by doing the same. It is a win-win situation for both websites.
Things to remember while using this great external linking.
| | | |
| --- | --- | --- |
|   | DO's of External Linking | DON'Ts of External Linking |
| 1 | Link only to proper and authentic pages | Do not link to empty pages and to poor contents |
| 2 | Use appropriate anchor text | Do not use hidden links |
| 3 | Link to relevant websites | Do not use manipulative links |
Optimize Title Tag
Headlines are eye-catchers. A good headline will hold users but a proper title will attract both users and spiders. The headline appears above the post while the title tag appears in SERP.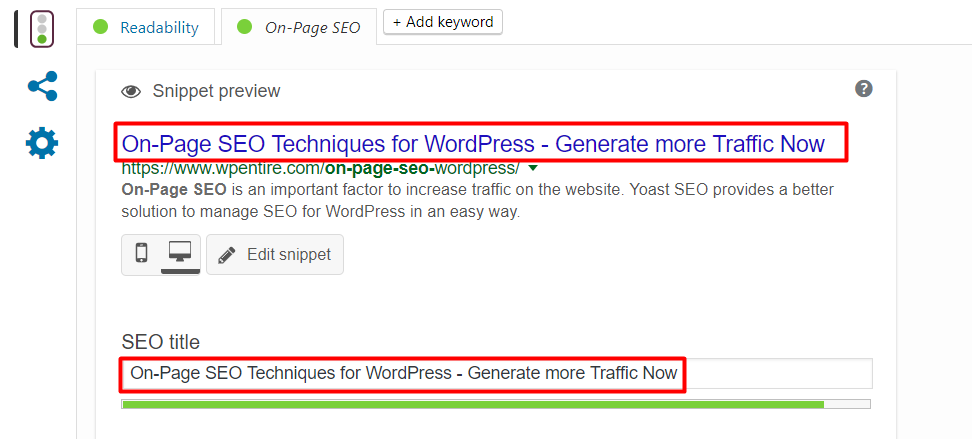 The title tag should be written in the h1 tag and should also consist of the keyword (if possible, at the beginning of the title tag). The optimal length of a title is 50-60 characters.
We can edit the Title tag using the Yoast SEO plugin. Yoast SEO will suggest you by default if we have not included the keyword in our title or if it is too long.
Note: The title tag and headline can be different if we want. However, the headline and the title tag can be similar so that the visitors do not get surprised and leave which is good for SEO.
In Yoast SEO, the SEO title can be changed by clicking "Edit snippet".
Optimize Meta Description
We should write it even though the description does not "technically" matter in SEO these days.
This meta description appears on the search result of the search engine before clicking on the link hence, it has its importance for the website/blog.
Yoast SEO allows us to change meta description the same way as in Optimize Title Tag by clicking on "Edit Snippet". The length can be between 120 to 156 characters.
Conclusion
Hope this post will very helpful to start on-page SEO for your WordPress website. Install the Yoast SEO plugin now and start optimizing your existing posts and pages as well.
Comment us below if you have any queries or confusion.
Best wishes for your better SEO! 🙂